Welcome to Pleasant Grove Sportsmen.com,
This is the official web page for the Pleasant Grove Sportsmen's Association. Membership is open to the public.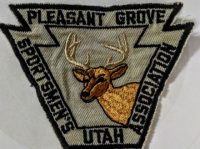 The building is no longer available to rent out for private events.
Contact information:
Telephone: (385) 312-0486 (Text or email ONLY)
Location:


Sportsmen Club and Lions Building
610 East Center Street
Pleasant Grove, Utah 84062
Mailing address:
PO Box 605
Pleasant Grove, Utah 84062-0605
This building is home to the Pleasant Grove Sportsmen and Lions Clubs.
It is also used for Pleasant Grove City and City Recreation activities.
The shooting range, suitable for Rimfire rifle and non-magnum pistol shooting and is used by the Club for sponsored activities such as Hunter Safety and Concealed Carry Classes.
Looking for Other Ranges in the AREA!
Provo Shooting Park up Provo canyon
Provo Shotgun Club